Permitting and Compliance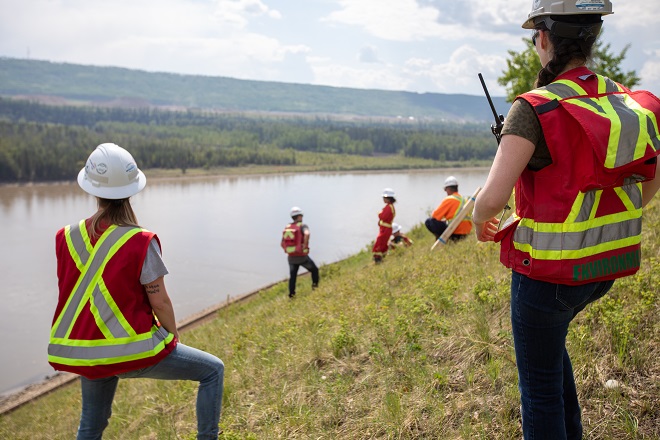 The Environmental Assessment Certificate (EAC) and federal Decision Statement gave BC Hydro permission to proceed with construction on Site C, subject to a number of conditions regarding construction and operation of the project.
In addition, we obtained federal Fisheries Act and Canadian Navigable Waters Act approvals for the project.
While BC Hydro is exempt from a number of permits under the Hydro and Power Authority Act, we routinely apply for permits in the interest of transparency. This includes permits and tenures under the Forest Act, Land Act, Mines Act, Water Sustainability Act, Heritage Conservation Act, and Wildlife Act.
BC Hydro and the Ministry of Forests, Lands, Natural Resource Operations and Rural Development have also established a cooperative consultation process with Indigenous groups, aiming to conduct meaningful and timely consultation on provincial permits applications.
Current permit applications
The Canadian Navigable Waters Act requires that work on unscheduled waterways be posted for public review and comment. We encourage you to review the below applications and provide feedback through the applicable portals.
May 9, 2022: Public comment period May 9 - 30 on EAC amendment to

use public roads to haul materials
The Environmental Assessment Office is beginning a second public comment period from May 9 to May 30, 2022 for BC Hydro's request to amend its Environmental Assessment Certificate for the Site C project. The first comment period took place from April 29 to May 28, 2021.
The application to the B.C. Environmental Assessment Office focuses on using public roads to haul material from 85th Avenue Industrial Lands to the dam site on a contingency basis.
Hauling would only take place when the conveyor is not operating due to events beyond BC Hydro's control. This could include vandalism/sabotage, extreme and prolonged inclement weather, equipment repair delay/disruption, expertise disruption, localized fires, vehicle, equipment or human accident, and force majeure or "Act of God" events.
The public is invited to submit comments regarding new or additional adverse impacts that might result from the proposed amendment.
Review the full application to the BC Environmental Assessment Office
Provide input to the BC Environmental Assessment Office

Mail: Sarah Duggan, Project Assessment Director, Environmental Assessment Office, PO Box 9426, Stn Prov Govt, Victoria BC V8W 9V1
Fax: 250-356-2208
Compliance
We take compliance with the Site C Clean Energy Project's environmental requirements very seriously.
The project receives regular inspections from federal and provincial compliance officers and also retains an independent environmental monitor who inspects the project on a weekly basis. In addition to these external inspectors, all contractors employ their own environmental monitoring teams.
BC Hydro employs our own large team, located at site, which conducts daily compliance inspections across the project to verify compliance with the thousands of project requirements.
As of December 2020, BC Hydro had completed more that 118,000 inspections.
Learn more