Environmental Programs
Our goal is to protect the environment and reduce the environmental impacts of Site C. Our programs focus on protecting wildlife, fish, vegetation, air, water, the aquatic environment, as well as heritage and archaeology.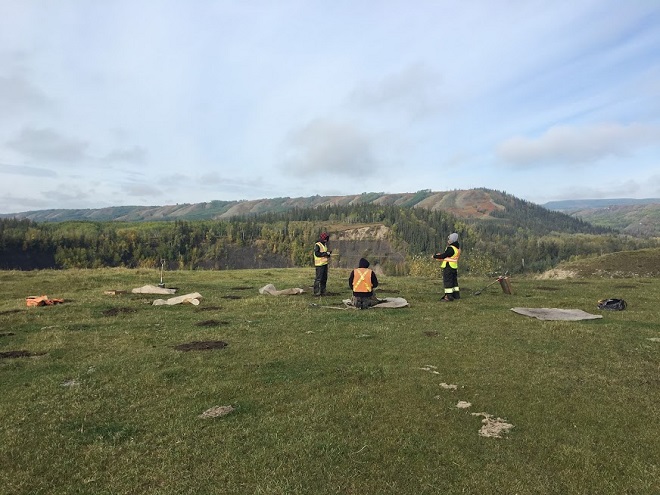 A field team conducts a grid of subsurface shovel tests.
In the summer of 2020, the Site C Heritage program completed an intensive, 11-year long heritage and archaeological inventory and impact assessment of the project area. It is the largest and most comprehensive archaeological study ever completed in British Columbia and builds upon the heritage work previously conducted in the Peace River Valley.
The program focuses on archaeological (the study of past human activity), palaeontological (the study of fossilized animals and plants), and historical sites in and adjacent to the Peace River Valley.
Heritage assessment has been conducted for every component, including the dam site, transmission line, Highway 29 realignment, reservoir, and associated access roads. About 8,500 hectares of land has been assessed for the project. This is roughly the size of 56,015 hockey rinks (3.2 times the number of all the hockey rinks in the world)!
While there were many known heritage sites in the project area prior to this current work, the heritage assessment has resulted in a fivefold increase in the number of identified sites. Many thousands of artifacts (or "belongings") have been collected, which are currently being stored at Fort St. John North Peace Museum. Palaeontological finds are currently stored at the Royal British Columbia Museum.
Going forward, other aspects of the heritage program will continue, such as additional assessment of design changes, and construction support, including chance finds response and construction monitoring.
Indigenous heritage and archaeology
The presence of these sites and artifacts reveals material evidence of, and confirms, Indigenous peoples' use of the Peace River Valley for millennia.
The heritage program has engaged several hundred local representatives from Indigenous communities in the region.
In addition, we have consulted with local Indigenous groups, the public, local landowners, the B.C. Archaeology Branch, local governments, and local area museums about heritage.
The teams from our Heritage program and Indigenous Relations also worked collaboratively with Indigenous representatives on the Culture and Heritage Resources Committee to design a travelling exhibit. This interactive museum experience compiles the history and culture of the Indigenous communities in the Peace Region through stories and visuals, and contains artifact replicas that will travel to these communities.
Best practices
The Site C Heritage Resources Management Plan identifies heritage mitigation and management measures, including opportunities to protect and preserve heritage resources, avoid or reduce impacts to heritage sites where feasible, as well as for the collection, documentation, curation and display of artifacts, and for heritage monitoring during construction and reservoir operations.
The heritage effects assessment was reviewed during a three-year federal-provincial environmental assessment, which included public hearings as part of an independent Joint Review Panel process.
The heritage effects assessment is documented in the Site C Environmental Impact Statement.
Regulatory framework
Archaeological sites on both public and private land are protected under the Heritage Conservation Act and must not be altered without a permit.
Palaeontological sites are managed by B.C.'s Fossil Management Framework, a cohesive plan with legislative authorities under the Land Act, Heritage Conservation Act and Mineral Tenure Act, tools, procedures and a fossil management policy governing site and specimen protection, impact prevention, and access management.
Learn more