Public advisory: Peace River closure begins June 15
BC Hydro is reminding the public that a short section of the Peace River will be permanently closed to boaters, beginning June 15, 2020.
This closure will ensure the safety of the public and workers as we carry out in-river construction and prepare for river diversion in the fall.
Until river closure on June 15, boaters should continue to use extreme caution when moving through the dam site, since in-river construction activities are already underway. This includes dredging and infilling on both banks of the river.
Peace River portage program
To move boaters around the construction area, we've set up a seasonal portage program to transport non-motorized vessels (up to 20') by road past the dam.
The program operates between the Halfway River boat launch and the Peace Island Park boat launch from June 15 to September 15. You can make a reservation by calling 1 877 217 0777.
For more information, please visit www.sitecproject.com/boating.
What is river diversion?
One of the most important steps in building Site C is to change the route of a short section of the Peace River during construction. Diverting the river allows us to build the earthfill dam across the main river channel, while keeping the river flowing.
Learn more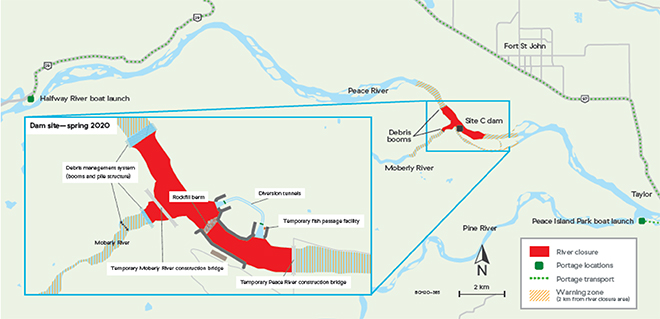 Click the map to view details.

Contact us
Email: [email protected]
Twitter: @sitecproject