Indigenous Relations
We're working with Indigenous communities to build long-term relationships by incorporating their interests into the Site C project and finding ways to mitigate impacts and advance reconciliation together.
Calendar of Indigenous Community Events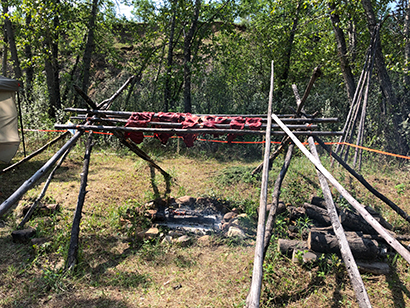 Welcome to the Culture and Heritage Resources Committee calendar of Indigenous community events.
The calendar highlights events and gatherings hosted by Indigenous communities in the northeast. They are free and open to the public. All are welcome to attend.
Events include cultural gatherings, celebrations, rodeos and more, offering an experience to increase your knowledge of and appreciation for Indigenous culture.
Please contact hosting Indigenous communities for more information about the events.
Details are subject to change. Information will be added or updated as needed.
Date
Event
Location
Contact
June 8, 2023

Doig Days - 10 a.m. to 2 p.m. (Cultural event)

Doig River First Nation, BC

Doig River First Nation

June 4 - 10, 2023

Mountain Medicine: Healing Our People (Cultural event)

Sikanni River Ranch

Prophet River First Nation

June 23 - 25, 2023

Treaty Days (Cultural event)

Prophet River First Nation, BC

Prophet River First Nation

June 29 - July 3, 2023

Dene Tha' Education and Cultural Gathering

Meander River, AB

Dene Tha' First Nation

July 7 - 9, 2023

Pemmican Days (Cultural event and activities)

Saulteau First Nations Pemmican Grounds

Moberly Lake, BC

Saulteau First Nations

July 9 - 16, 2023

Prophet River Cultural Days

Trutch Alaska Highway, BC

Prophet River First Nation

July 17 - 21, 2023

Blueberry River Culture Camp

Pink Mountain, BC

Blueberry River First Nations

July 28 - 30, 2023

Doig River Rodeo

Doig River First Nation, BC

Doig River First Nation

August 9 - 11, 2023

McLeod Lake Indian Band Annual General Assembly and Career Fair (Cultural event)

McLeod Lake, BC

McLeod Lake Indian Band

August 11 - 13, 2023

Fort Nelson First Nation Annual Celebration (Cultural event)

FNFN Arbor Grounds

Fort Nelson First Nation, BC

Fort Nelson First Nation

August 18 - 20, 2023

Halfway River Valley Rodeo Roundup

Halfway River First Nation, BC

Halfway River First Nation

August 20 - 26, 2023

Saulteau First Nations Cultural Camp

Km 48 on the Moberly Lake Forest Service Road

Saulteau First Nations

August 25 - 27, 2023

Prophet River Treaty Days

Mile 293 Alaska Highway

Prophet River First Nation

August 26 - 27, 2023

Saulteau First Nations Golf Tournament

Moberly Lake Golf Course

Saulteau First Nations