Generating Station and Spillways Civil Works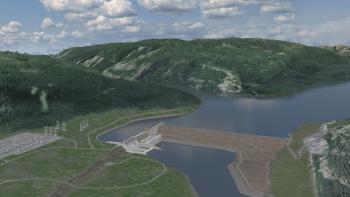 The generating station and spillways component of the Site C project will be procured through multiple contracts, including the civil works contract, hydro-mechanical equipment supply contract and powerhouse bridge crane supply contract and a balance of plant contract.
The scope of the contract includes the construction of the civil works associated with the powerhouse, penstocks, spillways and power intakes, including:
Processing and production of all aggregates and granular materials required for the works;
Placement of approximately 700,000 cubic metres of mass and reinforced concrete for spillways, intakes, penstock encasement and powerhouse substructure;
Procurement, fabrication and erection of six penstocks each 10 metres in diameter and 80 metres in length;
Procurement, fabrication and erection of structural steel in the powerhouse;
Procurement and installation of intake trashracks and anti-vortex devices;
Procurement and installation of embedded pipes, ground grid and conduit; and
Turbine-generator embedment activities (e.g. concrete placement).
The scope of work will predominantly be constructed on a roller-compacted concrete buttress that is being constructed by Peace River Hydro Partners, as part of the main civil works contract.