Mental Health Support Resources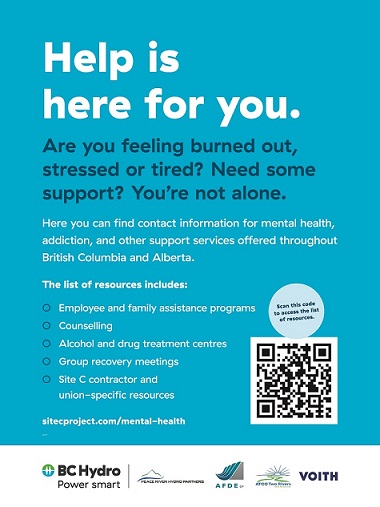 Are you feeling burned out, stressed or tired? Need some support? You're not alone.
This section is meant to be a resource for individuals seeking help. Below are links to contact information for mental health, addiction, and other support services offered through Site C contractors and/or their unions, as well as other public and private resources available to individuals in British Columbia and Alberta.
This is not an exhaustive list and these are not BC Hydro-sponsored programs unless noted otherwise.
BC Hydro employee resources
Employee and Family Assistance Program (EFAP)
Employee & Family Assistance Program offers short term counselling and work life support. Please call 1 866 231 2101, the service is available 24/7 or visit our EFAP website for more information.
LifeSpeak
LifeSpeak is a total well-being platform which gives you and your family members instant access to expert advice on a wide range of topics.
You can watch videos, download action plans, read Expert Blog articles and interact with world-class experts in real time. LifeSpeak is available anywhere, anytime and is anonymous and confidential.
Access LifeSpeak online through BC Hydro's employee intranet site Hydroweb: BCHydro.lifespeak.com

General mental health
Kids Help Phone – call 1 800 668 6868
Mental Health Support – call 310 6789 (no area code required)
B.C. Mental Health Information line – call 604-669-7600 or 1-800-661-2121
Crisis Intervention & Suicide Prevention line – call 604 872 3311
Suicide
B.C. Suicide Help line – call 1 800 SUICIDE (1 800 784 2433)
SAFER (Suicide Attempt Follow-up, Education & Research) Counselling Service – call 604 675 3700
Group recovery meetings
General Addiction Support
B.C. Alcohol and Drug Information line – call 211
Alcohol and Drug information – call 604 660 9382 or 1 800 663 1441
AA 24-hour help line – call 1 604 434 3933
Problem gambling help line – call 1 888 795 6111
Crisis line support for Indigenous workers
Call toll free at 1 800 588 8717.
Call the Youth Line at 250 723 2040.
Call the Adult Line at 250 723 4050.
Indian Residential School Survivors Society
For crisis support 24/7, call 1 800 721 0066.
Coping resources
Togetherall – A free online anonymous peer-to-peer support community for your mental health.
Wellness Together Canada – Available to both adults and youth. This site provides educational resources, e-courses and free counselling.
Heads Up Guys – Health strategies for managing and preventing depression.
Bounce Back – Reclaim your health. Overcome early symptoms of depression and anxiety.
Victim services