Notification letter: Hudson's Hope – Completion of the Shoreline Protection Berm and Portage Trail Reopening
Dear neighbours,
We're reaching the end of construction for the new shoreline protection berm.
Most of the construction activities were completed last week and our contractor is demobilizing equipment from the area. We anticipate this will be complete by mid-November.

Once all equipment has been removed, DA Thomas Road and the trail leading down to the berm will be reopened for foot traffic. Portions of the berm will remain open until construction of the recreation site begins next spring.
Initially this includes:
• Demobilizing construction equipment from November 1st to 14th.
• Reopening of DA Thomas Road and the trail to the berm for foot traffic on the week of November 14th.

The remaining sections of the berm will remain closed to the public. The area of the berm southwest of the permanent gate will remain closed at the end of the project.
Residents are encouraged to wear appropriate footwear and use caution when accessing or walking on the berm.
The map below shows the areas open for foot traffic: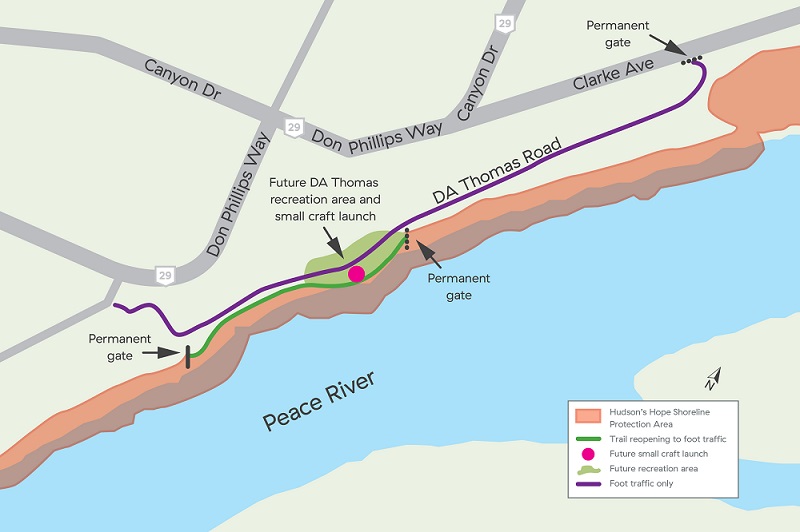 Other details:
• Watch your footing as the path can be uneven with changing conditions.
• Watch for fall hazards along the edge of the berm.
• Look out for falling debris.
• There will be signage in the area.
• Please be mindful of children and pets near the berm and keep them within your supervision near this area.
Please contact us if you have any questions.
Sincerely,
Site C Project Team
Contact us
Toll-free: 1 877 217 0777
Email: [email protected]
Twitter: @sitecproject