News and Information
The news and information section includes media releases, information sheets, field work notices and project videos about Site C.
Update January 6, 2022: With the rapid spread of the Omicron variant, we have put additional measures in place to screen workers returning to site after the holiday season. In addition to requiring all workers to be fully vaccinated by January 10th, we are also rapid testing every worker returning to site.
BC Hydro is strictly following Ministry of Health guidelines and has implemented a range of protocols to prevent the spread of COVID-19 at Site C.
We require people to isolate if they show any symptoms as described by the BCCDC, no matter how mild. These symptoms include sneezing, sore throat, muscle aches, headaches, cough fever or difficulty breathing.
We update these numbers Monday through Friday, excluding statutory holidays:
| Site C camp status: January 19, 2022 | |
| --- | --- |
| Number of people in camp | 1,215 |
| Number of people in isolation at camp | 36 |
| Number of people in isolation at home | 52 |
| Number of active COVID-19 cases | 88 |
| Number of cleared COVID-19 cases | 401 |
| Total number of cases since January 1, 2022 | 140 |
| Total number of cases since March 1, 2020 | 489 |
Infographic: Preventing the spread of COVID-19 at Site C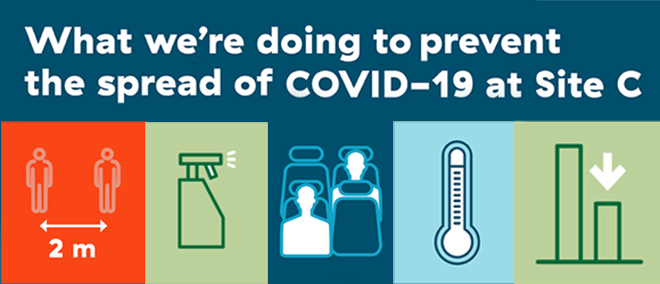 Safety is our top priority. To help everyone keep safe, BC Hydro and Site C contractors have set up thermal scanners at various exit/entry points in the worker accommodation lodge. These scanners are for workers to use voluntarily.
These camp scanners are another way to help workers staying in camp check their health.
Effective August 19, 2021, BC Hydro is suspending the Site C shuttle service between Two Rivers Lodge and Fort St. John.
Effective March 30, 2020, BC Hydro started implementing additional COVID-19 health screening measures at Site C access points.
All workers accessing site will be subject to health screening consisting of the B.C. Ministry of Health COVID-19 self-assessment questionnaire.
Workers are required to show their Site C access card and follow instructions from the staff administering screening protocols. Staff will obtain verbal consent to conduct the screening. If consent is not provided, access to site will be denied.
Once consent is given, staff will ask questions from the provincial self-assessment questionnaire.
Workers determined through the completion of the COVID-19 self-assessment questionnaire to be free of symptoms, will proceed through security to access site.
If a worker answers "yes" to any of the self-assessment questions, displays flu-like symptoms, they will subject to a secondary health assessment, to be conducted by on-site medical clinic practitioners.
If, after the secondary assessment, they are recommended for self-isolation, the worker can return home if a local resident. Anyone not a local resident will be safely transported to the isolation dormitory in the Two Rivers Lodge, for continued monitoring and re-assessment by medical practitioners.
Our top priority is the health and safety of our employees, contractors and members of the public. We have been monitoring COVID-19 closely since January 2020 and have been taking appropriate action as the situation evolves.
To minimize the risk of transmission to our site we've implemented measures to mitigate the risk of a COVID-19 event occurring.
These include:
restrictions on non-essential travel for BC Hydro employees and consulting service providers;
postponing all non-essential site tours, meetings and on-site training; and
increasing site-wide communications promoting good hygiene, such as frequent hand washing and staying home when ill.
We have been working closely with lodge operators and the on-site health clinic to quickly implement enhanced measures to reduce the risk of a COVID-19 event occurring at site.
Face masks are mandatory in camp.
Common area closures
The following common areas are open with physical distancing and enhanced cleaning protocols in place:
Spiritual room
TV and games rooms
Movie theatre
Recreational rooms and gym
Dining room
Dining room
Guests are required to wash their hands prior to entering the dining room and mug-up room.
Tables are set up to help workers adhere to physical distancing guidelines (one seat at each table and tables spaced farther apart).
Dining tables are cleaned after each use and additional touchless hand sanitizing stations are available.
All self-service food stations, such as beverage dispensers and the salad bar, are closed. Certain foods, such as salads, are now prepackaged.
Cups/mugs, cutlery and all condiments, such as sugar packets, ketchup, etc., need to be requested.
Two hot food line-ups are in effect to provide more efficient service times.
Additional staff are on site to manage these changes and ensure physical distancing guidelines are followed.
Reservations are required for breakfast and dinner to manage dining room capacity.
Health clinic
The Site C Health Clinic, managed by International SOS, is well equipped with experienced health practitioners, test kits and medical supplies. In addition, the camp has the ability to comfortably isolate any workers who are awaiting test results, or who may test positive for COVID-19.