Permitting and Compliance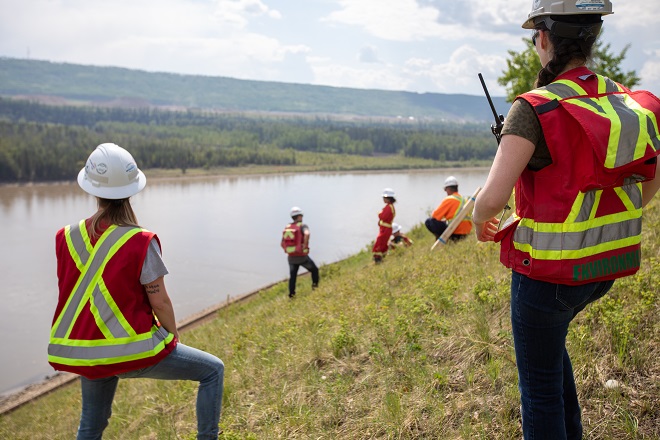 The Environmental Assessment Certificate (EAC) and federal Decision Statement gave BC Hydro permission to proceed with construction on Site C, subject to a number of conditions regarding construction and operation of the project.
In addition, we obtained federal Fisheries Act and Canadian Navigable Waters Act approvals for the project.
While BC Hydro is exempt from a number of permits under the Hydro and Power Authority Act, we routinely apply for permits in the interest of transparency. This includes permits and tenures under the Forest Act, Land Act, Mines Act, Water Sustainability Act, Heritage Conservation Act, and Wildlife Act.
BC Hydro and the Ministry of Forests, Lands, Natural Resource Operations and Rural Development have also established a cooperative consultation process with Indigenous groups, aiming to conduct meaningful and timely consultation on provincial permits applications.
Current permit applications
The Canadian Navigable Waters Act requires that work on unscheduled waterways be posted for public review and comment. We encourage you to review the below applications and provide feedback through the applicable portals.
February 19, 2021: BC Hydro has submitted a Notification of Work to Transport Canada (Registry # 2993) for the installation and operation of a temporary purse boom on the Moberly River. This boom is required for the operations and maintenance of the existing Moberly Debris Piles, to safely and efficiently remove debris from the piles. The purse boom will be removed prior to reservoir filling. The public can provide comments through Transport Canada's Common Project Search or by emailing

[email protected]

.
January 22, 2021: BC Hydro will be applying for an amendment to the EAC, related to the movement of materials from the 85th Avenue Industrial Lands to the dam site. Read the notification letter.
Compliance
We take compliance with the Site C Clean Energy Project's environmental requirements very seriously.
The project receives regular inspections from federal and provincial compliance officers and also retains an independent environmental monitor who inspects the project on a weekly basis. In addition to these external inspectors, all contractors employ their own environmental monitoring teams.
BC Hydro employs our own large team, located at site, which conducts daily compliance inspections across the project to verify compliance with the thousands of project requirements.
As of December 2020, BC Hydro had completed more that 118,000 inspections.
Learn more