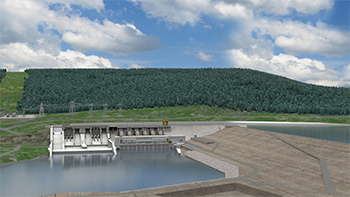 The generating station and spillways component of the Site C project will be procured through multiple contracts, including the civil works contract, powerhouse bridge crane supply contract, balance of plant contracts and equipment supply contracts.
The scope of the balance of plant contract includes the electrical, mechanical, architectural and miscellaneous civil/structural work required to complete the construction of the generating station and spillways:
Installation of and commissioning support for mechanical and electrical water-to-wires equipment supplied by others.
Supply, installation and commissioning of mechanical and electrical equipment such as piping, pumps, cable tray, cables, etc.
Installation of protection, control, telecom, security and similar systems supplied by others.
Supply and installation of miscellaneous civil items and structures (platforms, out buildings, concrete equipment pads, miscellaneous metalwork, etc.)
Supply, installation and commissioning of the permanent upstream fishway.
Design, supply, installation and commissioning of building systems, such as the fire detection and protection, HVAC equipment, domestic water, wastewater, etc.
Completion of building interiors to the finished state.
Supply of temporary construction works and decommissioning and site clean-up of the contractor's temporary construction works.
Equipment Supply Contracts
BC Hydro has completed the procurements of supply contracts for the following equipment to be installed by the balance of plant contractors:
| Scope | Supplier |
| --- | --- |
| Generator terminal equipment | Saint-Augustin Canada Electric Inc. |
| Generator step-up transformers | Hyundai Electric & Energy System Co Ltd. |
| Generator circuit breakers | ABB Power Grids Canada Inc. |
| AC station service equipment | Powell Canada Inc. |
| DC station service equipment | Primax Technologies Inc. |
| Standby generators | Cummins Canada ULC |
| 500 kV motor-operated disconnect switches | Grid Solutions Canada ULC (GE) |
| Depression air receivers | John Brooks Company Ltd. |
| Knife gate valves | Orbe Canada DBA Orbinox |
| P&C panels | Surtek Industries Inc. |