Environmental Impact Statement
The Site C Environmental Impact Statement (EIS) is a comprehensive document that includes the project rationale, identifies potential effects and proposes measures to avoid or mitigate adverse effects. The EIS also describes the benefits Site C would provide for customers, Aboriginal groups, northern communities and the province as a whole.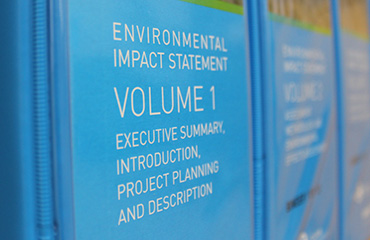 As part of the planning and evaluation process for Site C, BC Hydro has undertaken years of detailed studies to identify and assess potential effects from the project and mitigation measures. These are documented over five volumes in the EIS.
BC Hydro filed the EIS in January 2013. The EIS was subject to a review by a government-appointed Working Group – which included Aboriginal groups and local governments – and a 60-day public comment period. An amended EIS was submitted to the Joint Review Panel in August 2013.
In November 2013, the Joint Review Panel reviewing Site C announced that the EIS, along with the additional information submitted by BC Hydro, contained sufficient information to proceed to public hearings. Joint Review Panel hearings for Site C took place from December 9, 2013 to January 23, 2014. In May 2014, the Joint Review Panel submitted its report to the Federal Minister of Environment and the Executive Director of the B.C. Environmental Assessment Office.
The Site C project received environmental approval from the federal and provincial governments in October 2014. The project requires an investment decision by the Province and regulatory permits and authorizations before it can proceed to construction. In addition, the Crown has a duty to consult and, where appropriate, accommodate Aboriginal groups.
Relevant Links